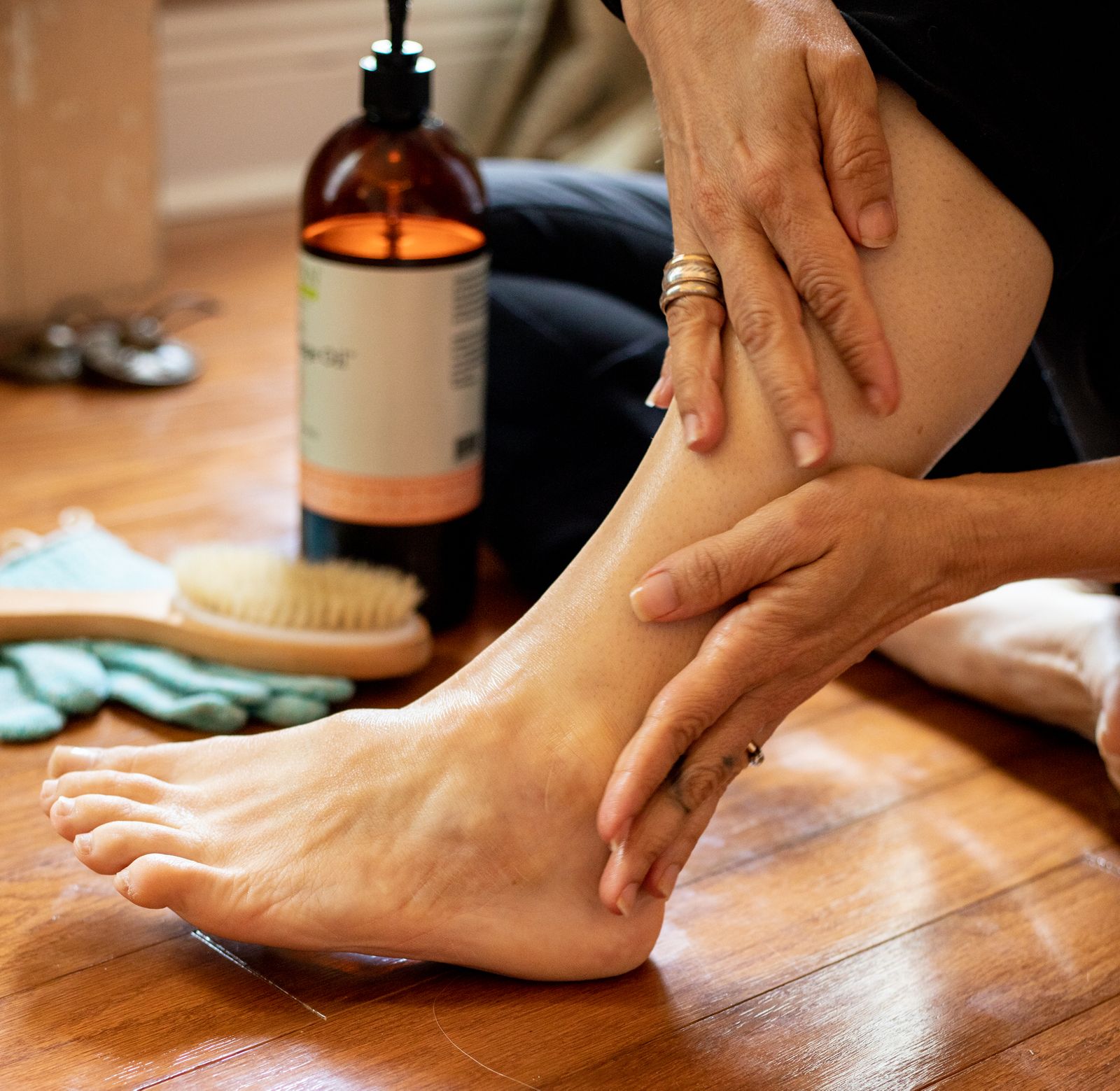 I'm writing to this on a rainy Sunday. I love Sundays. I treat them as a rest and reset day. I rest in and read in bed in the morning. I spend the afternoon in my kitchen getting food organized for the week. In the evenings, I give myself a massage, which is by far my favorite activity of the day.
There are a few different ways to give yourself a massage. I like them all. During the week, I use a dry brush in the morning to stimulate circulation and wake myself up. Before an evening shower, I will often offer myself a brief oil rubdown to lubricate my skin and calm my energy.
But on Sundays, I invest time literally getting in touch with myself. I sit on a towel on the bathroom floor and start with my head. I take my time and massage all the way to the soles of my feet. From the neck down I generously use scented oil. I pause and spend time in places that feel tight, or energy feels stuck. In this process, I come home to my body. I release tension, and emotion. I sculpt my shape. When I can feel that the container that houses my spirit is fortified and strengthened, I rinse off in the shower or soak in the tub. I always feel deeply calm and rooted afterwards.
This practice, known as abhyanga in Ayurveda, has many benefits, which include:
Soft, supple skin.
Increased circulation and lymphatic flow.
Greater body awareness.
Enhanced sense of self.
Improved immune system function.
Better sleep.
When abhyanga was first recommended to me, I thought it sounded strange. I was intrigued by the benefits but not sold on the practice. Then, I learned about lotions. Did you know that lotions contain an untold amount of unnatural substances? Your skin is a digestive organ. It will take what you rub on it and bring it deep into the tissue layers of the body. Oil does not contain any added chemicals or preservatives. By choosing oil over lotion, you are nourishing yourself from the outside in while decreasing your toxic load.
So, with curiosity, a little trepidation, and a commitment to the health of my body, I began. Over time, abhyanga has become a cornerstone of my self care regime.
If self massage sounds strange to you, or you are touch-averse, start small. An evening ear massage, or a foot rub before bed can illuminate the potential of this practice. Once you get comfortable with that, you can add another body part, such as the neck and shoulders, or lower legs.
I believe that in time you will learn to love this practice as much as I do.
This is the type of habit I teach and coach in my course, Yoga for LIFE. A new cohort is forming for an October 14 start date. If you want to be in that number, book a free consultation here: https://www.pbpyoga.com/offerings/book?offering=e045f3f9-fe98-45b1-bde1-61db2afc660e
I'd be happy to help you discern if this course is the right one to take you beyond your health and wellness goals and into thrive.
Love you all,
Paige